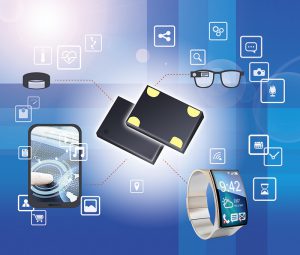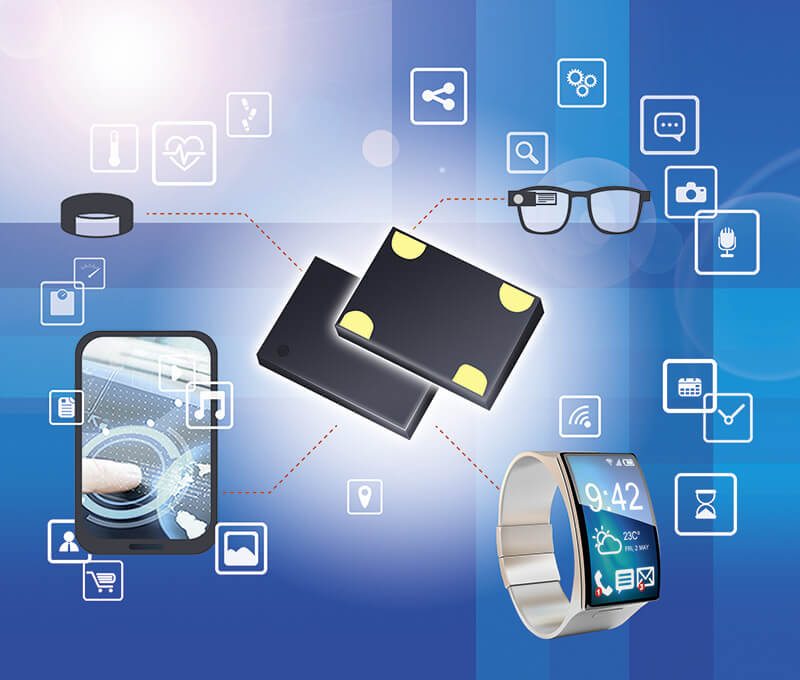 The unique Ultra Low Power Micro-Oscillator from the "ULPO" series has with the supply voltage of 1.8 VDC an energy consumption of 50 µA at 2048 MHz. This means the "ULPO" uses 30 times less electricity than a comparable TCXO  (clipped sine wave output signal) or even 200 times less than a normal clock oscillator (CMOS/TTL compatible) with 2048 MHz.
The casing measurements of 1.5 x 0.8 mm mean that the low-cost "ULPO" series ultra low power Oscillator is 85% smaller than an oscillator measuring 3.2 x 2.5 mm and saves an enormous amount of space on the circuit board.
The "ULPO" is available with a frequency of 1 – 26 MHz at this time and can be delivered at temperatures ranging from -40/+85°C. A further advantage is that it can measure at least two IC's. For technological reasons, a small-sized MHz-quartz has a very high level of resilience, which often leads to insufficient certainty in oscillation build-up certainty for the oscillator stage from the IC / MCU / SoC used. Using an "ULPO" series Ultra-Low-Power MHz Oscillator means optimum oscillation build-up at any time.
This combination of extremely low electricity consumption and an ultra-compact casing makes this oscillator based on state-of-the-art CMOS technology ideal for use in battery-operated applications such as in wearables, GPS, smartphones, tablets, health and wellness monitor, sport video cameras, IoT, smart metering, smart housing, industrial, Wireless ISM band, cameras, bluetooth head-sets, consumer applications and embedded computing applications.
In order to be able to offer customers the shortest possible time-to-market, demo devices and series quantities are readily available. Whoever would like to rely on highly innovative, extremely energy-saving ULPO technology can request a brief and simple consultation from our the clocking specialists.
More information under:
SMD ULTRA LOW POWER OSCILLATOR 1 – 26 MHz
Technical enquiries:
Telephone: 0 81 91 / 30 53 95
Email: info@petermann-technik.de