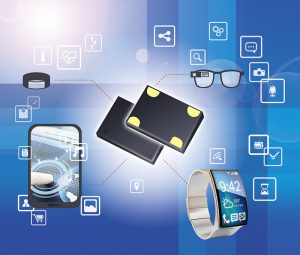 This is feasible only with a high-precision 32,768kHz system clock – a 32,768kHz "next-generation oscillator" from PETERMANN-TECHNIK. You can save more than 50% of application power using a 32,768kHz oscillator. Simply smart!
The 32,768kHz "next-generation oscillators" from PETERMANN-TECHNIK (Series ULPO-RB1, -RB2 and ULPPO) offer temperature stabilities from ±5ppm at -40/+85°C, and with ±5ppm, they are 36x more precise within the temperature range of -40/+85°C than a 32,768kHz quartz. This micro-oscillator with dimensions of 1.5×0.8 and 2.0×1.2mm features an impressive industry-best power consumption of <1.0µA@1.8VDC (750nA core).
Its output amplitude, which is adjustable to further reduce power consumption, and its very quick first-oscillation behaviour are unique features. Normally, two 32,768kHz quartzes are used to clock the sleep clock of a BL/BLE chip and a low-power MCU. An ultra-low power 32,768kHz oscillator from one of the two series named above can clock both ICs simultaneously. By replacing the two 32,768kHz quartzes with one oscillator, you get a multitude of options to save both board space and lots of money. In addition, with a 32,768kHz ultra-low power oscillator the circuit starts oscillating perfectly under all conditions and temperatures. With 36x more precision at -40/+85°C compared to a 32,768kHz quartz, the 32,768kHz ultra-low power oscillators provide an extremely high-precision system clock, resulting in the very quick processing of the highly energy-intensive sleep-to-process-to-sleep procedure. In addition, the wake-ups often used for the synchronization of the wearable with the receiver can be skipped completely thanks to the very high system precision. Measurements have shown that wearables equipped with a 32,768kHz oscillator consume >50% less power than wearables which are equipped with 32,768kHz quartzes. This is simply due to the fact that all the energy-consuming wake-ups and synchronization processes can be skipped thanks to the very high-precision 32,768kHz ultra-low power oscillator, allowing for an extremely short process sequence of the hibernation technology BL/BLE chip.
Of course, PETERMANN-TECHNIK have high-performance, low-cost MHz quartzes available as reference clocks for the BL/BLE chip. Samples and serial-production quantities are also available ex-warehouse from PETERMANN-TECHNIK. If you want to count on highly innovative, extremely low-power technology, get quick and easy expert advice from PETERMANN-TECHNIK. Automotive solutions with ±40ppm absolute for the 32,768kHz system clock and ±40ppm absolute for the BL/BLE chip clocking MHz oscillator are also available. Ensure the commercial success of your wearables by using 32,768kHz oscillators for today's customers, who are demanding Smart Technology for a Green World!
Find out more now:
SILICON OSCILLATORS PRODUCT OVERVIEW
Technical enquiries:
Telephone: 0 81 91 / 30 53 95
Email: info@petermann-technik.de