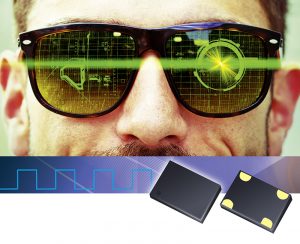 Silicon oscillators offer developers and supply chain executives everything that a modern component should be capable of these days. Extreme versatility, extreme robustness and longevity with a MTBF in excess of 500 million hours, extreme precision paired with very small housings and very low prices.
PETERMANN-TECHNIK Silicon Oscillators are direct drop-in replacements for quartz oscillators and can even be used without any redesign of the circuit board. Alongside the costs saved, users benefit from the thirty times longer life and higher shock and vibration resistance that make their applications far more failsafe. The revolutionary Ultra Low Power 32.768 kHz XOs and TCXOs, in housing dimensions of 1.5 x 0.8 mm and 2.0 x 1.6 mm, stand out for an extremely low power draw of less than 1 µA, and come at stabilities starting at ±5 ppm in the temperature range of -40 °C to +85 °C. The power consumption can be lowered even further and adapted perfectly to the application by reducing the amplitudes. Given their very low power draw, the VDC ULPOs and ULPPOs available in the VDD range of 1.2 to 3.63 are highly suitable for use in battery-powered applications such as IoT, wearables, GPS, RTCs, µP clocking, smart metering, smart housing, smartphones, tablets, health and wellness monitors, sports-video cameras, wireless keyboards, industrial (even for high ambient temperatures), embedded computing, consumer products, automotive and much more.
Minimal power draw 
The Standard Low Power XOs (LPO Series) in the frequency range of 0.2 to 137 MHz stand out for their very low prices, very low power consumption, very precise standard frequency stabilities of ±20 ppm at -40/+85 °C and excellent jitter values. The EMI behaviour of an LPO is 54 times better than that of a comparable quartz oscillator. The LPOs available in the VDD range of 1.5 to 3.63 have a power consumption of 4.8 mA at 137 MHz. A quartz-based XO under comparable conditions draws about 40 mA. In the range of 1 to 110 MHz, LPOs draw only 3.4 mA and are additionally available with a power-saving stop function. In standby mode, power consumption of the LPOs available in the standard housings (2.0 x 1.6; 2.5 x 2.0; 3.2 x 2.5; 5.0 x 3.2 and 7.0 x 5.0 mm) is only 0.6 µA. For new designs, PETERMANN-TECHNIK suggests using LPOs in a 2.0 x 1.6 mm or 2.5 x 2.0 mm housing, since these housings are much more affordable than quartz oscillators of the same size or quartz oscillators in larger ceramic housings of 5.0 x 3.2 mm or 7.0 x 5.0 mm. Furthermore, crossover applications with other oscillator variants can be created in these housings (e.g. Low Power Oscillator with Spread Spectrum Low Power Oscillator) without needing to design a new layout
One oscillator, two frequencies 
No problem with the extremely innovative LPO-2 Series. The LPO-2 Series can output two frequencies in the frequency range of 1 to 110 MHz, selectable on the frequency selection pin. The scalable output frequencies are F0 (fundamental frequency) or a division of the fundamental frequency. From F0, the divided frequencies of F0/2, F0/3, F0/4 or F0/8 can be generated. For example, 50/25 MHz for Ethernet, 24.576/12.288 MHz for audio, 54/27 MHz for video, 66/33 MHz for CPU or 48/24/12 MHz for USB applications. Aging is ±1 ppm after the first year and is therefore at TCXO level. The standard stability is ±20 ppm over -20/+70 °C, or ±25 ppm over -40/+85 °C. The jitter values are of course best-in-industry at 0.8 ps. Using the LPO-2, with very easy multiple use of oscillators at two different frequencies, allows significant savings in terms of development, qualification, components, acquisition and infrastructure costs.
Extremely low frequency drift 
The Silicon Oscillator Technology product range furthermore includes the UPO Series (Low Cost Ultra Performance Oscillators) and the HPTLPO Series (High Precision/High Temperature Oscillators). In the temperature range of -40 °C to 125 °C, these oscillators offer an extremely low frequency drift of ±20 ppm, where the AECQ100 automotive-standard models offer even ±25 ppm over the temperature range of -55 °C to 125 °C. These precision classes are not possible with classically produced clock quartz oscillators. The reliability of silicon oscillators is also thirty times higher than that of quartz oscillators. PETERMANN-TECHNIK has observed, in particular, that very high precision oscillators in very small housings are increasingly being used in areas such as "infotainment systems", "in-vehicle networking", "collision detection" and "gear control". Accordingly, the extremely high shock and vibration resistances, very low frequency stability values and very low prices are highly attractive for customers not only in the automotive industry.
Oscillators for networking and computing 
The Silicon Oscillator Technology of PETERMANN-TECHNIK sets new standards in differential XOs, VCXOs and VCTCXOs as well. Samples and small batches of, for example, LVPECL and LVDS models in the frequency range of 1 to 800 MHz are available within one day. Furthermore: These oscillators also have excellent frequency stabilities of ±10 ppm in the temperature range of 0 °C to 70 °C, or . ±15 ppm in the temperature range of -40 °C to 85 °C. The jitter values are extremely low, at 0.3 ps, and therefore perfectly suited to use in 10 GB Ethernet according to IEEE802.3-2005 and telecommunications applications. The aging of ±5 ppm after 10 years is less than that of a quartz-based TCXO. These oscillators are therefore suitable for applications such as networking and computing, server and storage applications, SONET, SATA, SAS, PCI-Express, routers, fully buffered DIMM and fibre-optic products. Samples and small batches from this area can be delivered within one day.
Broad frequency spectrum 
The VCXOs stand out for a high frequency spectrum of 1.0 to 625 MHz with pull ranges of up to ±1600 ppm. Optionally, frequency stabilities of ±10 ppm to ±50 ppm over -40/+85 °C can be selected, where the long-term aging is ±5 ppm after 10 years. Again, for the VCXOs, attention has been given to excellent jitter performance, extreme robustness and very low prices, as for the VCTCXOs and Stratum-3 oscillators as well.
Spread Spectrum Oscillators 
The Silicon Oscillator Technology product range is rounded off by Low Power High Performance Spread Spectrum Oscillators (LPSSO Series) in the standard frequency range of 1 to 220 MHz. Centre-spread ranges cover ±0.125 to ±2.0 %, while down-spreads cover -0.25 to -4 %, meaning the SSPOs are suitable for use in telecommunications applications, scanners, printers, copiers, interface controllers, graphics cards, PCIs, CPUs, set-top boxes, LCDs and all other EMC-critical applications. The VDD range is 1.8 to 3.63 VDC. The Spread Spectrum Oscillators are available in housings of 2.5 x 2.0 mm to 7.0 x 5.0 mm, where the 2.5 x 2.0 mm housing is recommendable for new developments due to its very favourable price.
Spread-Off function 
In some versions, the spread can also be disabled. The frequency stability without spread is ±25 ppm over -40/+85 °C, coupled with very low cycle-to-cycle jitter of 30 ps. The developer therefore has the option of enabling a defined spread. This considerably reduces the costs of development, components, storage and acquisition, since the same oscillator can be used – with or without spread – in many different customer applications. Like all other products from the Silicon Oscillator product range, the Spread Spectrum Oscillator product group offers almost unlimited application possibilities.
Same-day delivery of samples and small batches 
Not only are very many frequencies available in different housings ex works, but the production deadlines for all products are within a very tight timeframe of 3–5 weeks. Samples and small batches of the ULPOs and ULPPOs at 32.768 kHz, LPOs, UPOs, HPTLPOs, VCXOs, LPSSOs, Differential Oscillators etc. can be sent on the same day as ordered.
Why substitute for quartz?
A 2.0 × 1.6-mm² Low Cost Silicon Oscillator can clock multiple ICs. It has frequency stabilities of ±20 ppm maximum over -40 to +85 °C and ±25 ppm maximum over -55 to +125 °C in the frequency range of 1 to 220 MHz. No quartz crystal can do that! A 2.0 × 1.6 mm quartz crystal is only available from 20 MHz, and in a 2.5 × 2.0 mm² housing only from 12 MHz. Depending on the housing and frequency, these mini-SMD quartz crystals have a resistance of 250 to 60 Ohm (12 to 64 MHz). From the customer circuit analyses performed each day, the application engineers of PETERMANN-TECHNIK notice very frequently that the negative input resistances of the oscillator stages to be clocked are not high enough to achieve adequate starting reliability with these very small, high-ohm quartz crystals. Automotive customers even demand a safety factor of > 10! In non-automotive applications, too, adequately large safety factors cannot be achieved with very small quartz crystals, due to the very high resistances. Furthermore, even a very small quartz crystal still needs at least two external connecting capacitors to GND, if not an actual external resistor. All this takes up PCB space, which the user often doesn't have to spare, or will no longer have in the next miniaturization stage. A 2.0 x 1.6 mm oscillator barely needs 3.2 mm² of PCB space. No more than that. This solution is extremely flexible, very affordable, extremely long lived and simply indispensable in the next stage of miniaturization. Another factor to consider is the often very high drive level of >400 µW to 1 mW, or even more. Many users very often do not know how high the drive levels are in their circuits, since there is no simple way of measuring this value correctly. These high drive levels greatly overload a small quartz crystal and can thus drastically shorten the longevity of the quartz crystal. High drives are no problem for a micro-oscillator. Simply connect CLC-OUT to XIN from the oscillator stage, and you're done.
Good advice from the clocking specialists
To save as much costs as possible, the first place to look in a new development is the clocking. What ICs will be used; how can they be placed very closely together so that a single micro-oscillator can clock several ICs simultaneously, and thus the need for multiple quartz crystals and quartz oscillators avoided? How can EMC interference be avoided? The application engineers of PETERMANN-TECHNIK can help by providing advice and assistance, and can present and provide customers with samples of the best product solution from an extremely wide and deep product range.
Based on the highly innovative Silicon Oscillator Technology, PETERMANN-TECHNIK has a very broad range of different oscillators, such as Ultra Low Power Oscillators, Ultra Performance Low Power Oscillators, High Temperature Low Power Oscillators, Differential XOs, VCXOs and VCTCXOs up to 800 MHz, VCXOs, VCTCXOs, Stratum-3 Oscillators and Spread Spectrum Oscillators. Highly innovative oscillator solutions are available in the frequency range of 1 Hz to 800 MHz over the temperature range of -55 °C to 125 °C, depending on the component.
Given highest quality and extremely innovative products, combined with a very extensive catalogue of technical services and pricing and logistical systems adapted to the supply chain, and excellent product quality, PETERMANN-TECHNIK will continue to fortify its position as a specialist partner for frequency-determining components and offer its customers an extremely short time-to-market and costs reductions for development, qualification, components, acquisition and infrastructure.
More information under:
SILICON OSCILLATORS (LIKE MEMS)
or
SILICON OSCILLATORS PRODUCT OVERVIEW
Appeared as specialist article in in elektronik industrie 12/2014
Im Takt mit Silizium-Oszillatoren